Display, share and celebrate your favorite moments
INTRODUCING ACRYLIC DIGITAL PHOTO FRAMES: WHERE MEMORIES COME TO LIFE
Your cherished moments are too special to be confined to an album or buried in the depths of your phone's gallery. Acrylic Digital Photo Frames offer an exceptional opportunity to breathe life into your memories with remarkable clarity and brilliance.

This innovative platform transforms how you display, share, and revel in your photos and videos, inviting your precious moments to shine vibrantly and be celebrated like never before.

Discover a captivating new approach to reliving your memories and sharing them with the world.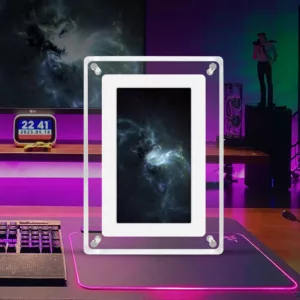 WHAT ARE ACRYLIC DIGITAL PHOTO FRAMES?
Acrylic Digital Photo Frames seamlessly fuse elegance and technology, encapsulating a high-resolution digital display that presents your photos and videos with unparalleled vibrancy and clarity. It's more than just a frame; it's a contemporary work of art designed to illuminate your cherished memories.

Experience a new dimension of displaying and relishing your precious moments, where the traditional frame meets the digital age, bringing your memories to life in a way that truly captivates.
WHY CHOOSE ACRYLIC DIGITAL PHOTO FRAMES?
Vivid Display: Your photos and videos deserve to shine. With Acrylic Digital Photo Frames, every detail is crisp, every color is true, and every memory is vividly brought to life.
Dynamic: Rotate and display a collection of your favorite moments effortlessly. Create slideshows, mix photos and videos, and relive your memories in motion.
Effortless: No more printing, framing, or switching out photos. Update your display with a few taps, and keep your display fresh with new memories.
Elegance Meets Technology: Acrylic frames are more than just a showcase; they're a statement. They seamlessly blend with any décor, adding a touch of modern elegance to your space.
Shareable: Share your memories with loved ones in an instant. Whether it's a family gathering or a special occasion, your Acrylic Digital Photo Frame becomes a conversation piece.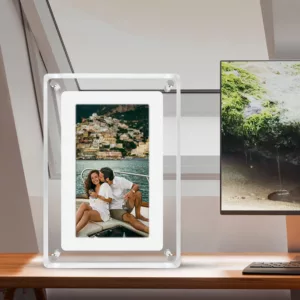 Our passion is to elevate the way you celebrate your precious memories. The Acrylic Digital Photo Frames we offer are meticulously crafted with precision to ensure your cherished moments are presented in all their glory, with unparalleled clarity and brilliance. These frames are a testament to our commitment to making your memories truly shine.
We believe that your memories deserve the best, and that's exactly what our Acrylic Digital Photo Frames provide. Let your memories take center stage, beautifully encased in these stunning frames, and continue to be a source of happiness and nostalgia.
YOUR MEMORIES, YOUR GALLERY:
Are you ready to transform your space into a captivating gallery of cherished memories? Acrylic Digital Photo Frames offer an extraordinary canvas for the most cherished moments of your life. These frames are not just a display; they are a celebration of your unique story.
Imagine reliving your most treasured memories in stunning clarity and vivid brilliance. With these frames, you have the power to transform any space into a sanctuary of nostalgia and love. Your life's journey deserves to be celebrated, and these frames provide the perfect platform.
BEGIN YOUR JOURNEY TODAY:
Enter the future of photo and video display with Acrylic Digital Photo Frames. Contact us to explore the boundless possibilities and discover how you can transform your space into a captivating memory gallery.
Step into a new era of visual storytelling and give your memories the attention they deserve. Start your journey of displaying, celebrating, and cherishing your photos and videos with the sophistication and brilliance of Acrylic Digital Photo Frames.