Relive the magic of your day again and again
ENHANCE YOUR COMMUNICATION WITH LINEN-COVERED VIDEO BOOKS:
Step into a realm where sophistication and innovation seamlessly converge, introducing you to the enchanting world of Linen-Covered Video Books. Here, we blend the timeless allure of linen covers with the dynamic prowess of video screens, transcending the boundaries of conventional communication. What you experience is more than just a message; it's an indelible and captivating journey.
Our Linen-Covered Video Books are designed to engage your senses, leaving an enduring imprint of elegance and technology merging harmoniously. This is where tradition meets the future, and your messages become more than words – they become immersive and unforgettable experiences. Explore the possibilities, and elevate your storytelling with Linen-Covered Video Books.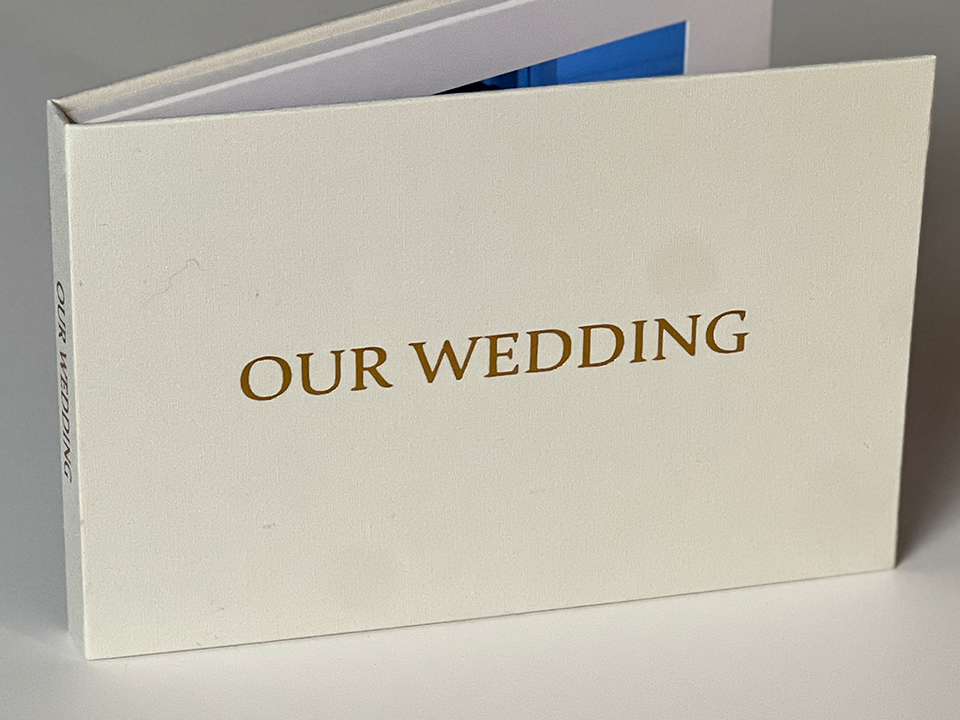 WHAT ARE LINEN-COVERED VIDEO BOOKS?
Linen-Covered Video Books represent a fusion of classic aesthetics and cutting-edge technology. These beautifully crafted books seamlessly integrate high-quality screens within their linen-covered design, creating a revolutionary mode of communication.

It's the perfect amalgamation of tactile elegance and multimedia impact. Your message is not just conveyed but experienced, and your audience will appreciate the artistry of Linen-Covered Video Books. Dive into a world where tradition meets innovation, and elevate your storytelling to captivating heights.

WHY CHOOSE LINEN-COVERED VIDEO BOOKS?
Elegance: The tactile charm of linen adds a touch of luxury to your wedding day making it stand out and leave a lasting impression.
Engagement: Video captivates like no other medium. With Linen-Covered Video Books, your wedding video and imagery becomes an immersive experience of that big day.
Memorability: Linen-Covered Video Books create a memorable impact. Your special day will be remembered forever.
Versatility: Whether it's as a gift, a record of the day or an invitation, Linen-Covered Video Books are versatile and adaptable.
Customization: Tailor the video content, to perfectly align with the things that matter the most to you.  Your vows, the build up, the day… it's entirely up to you.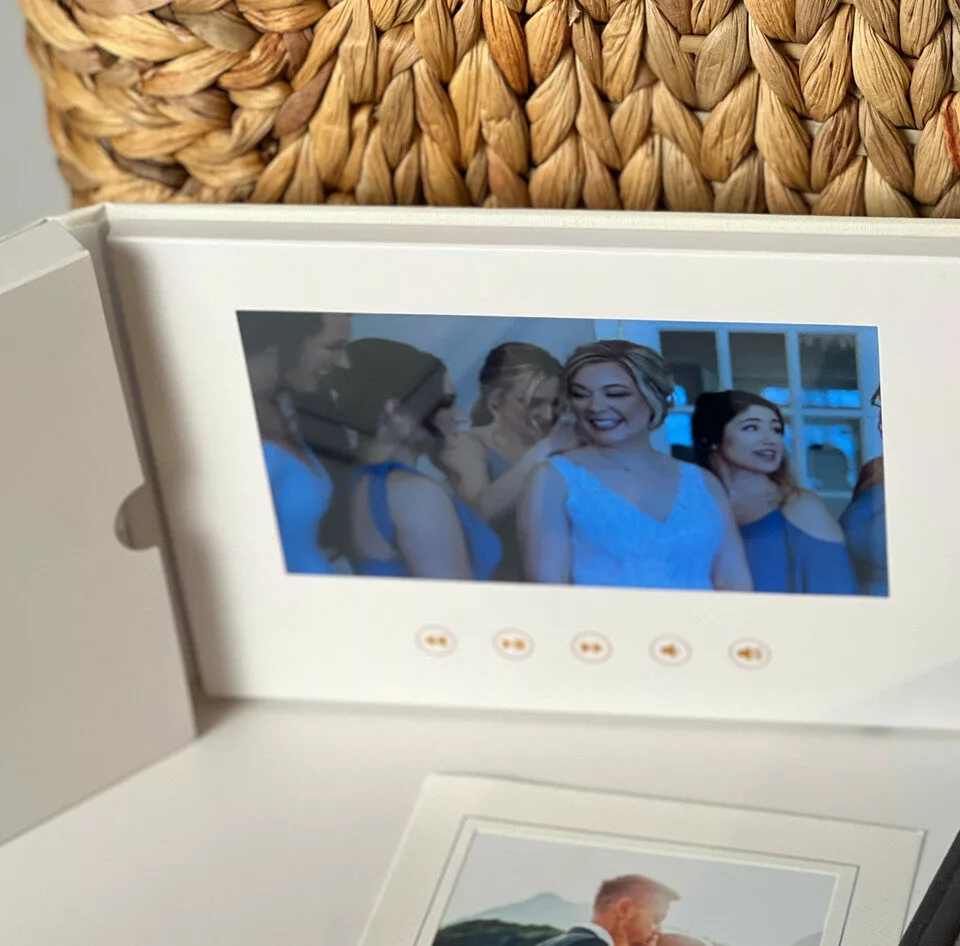 Boasting an enduring legacy of excellence, we proudly stand as your steadfast ally in the realm of Linen-Covered Video Brochures. Our unyielding dedication to precision, ingenuity, and tailor-made craftsmanship guarantees that your cherished wedding day moments gleam with resplendent brilliance, imprinting an enduring aura of refinement.
We are here to guide you on a transformative journey, revolutionizing the way you revisit your wedding day, and forging an extraordinary and unforgettable narrative that will be treasured for a lifetime.
Permit us the privilege of elevating your recollections of that special day to an unprecedented pinnacle of elegance and storytelling, ensuring that the tale of your love is immortalized in a tapestry of sophistication.
UNLEASH THE POWER OF ELEGANCE AND INNOVATION:
Prepare to rekindle the magic of your wedding vows, relish the unforgettable moments of your reception, and immerse yourself in the rhythm of the music with vivid HD video and enveloping sound. Linen-Covered Video Books offer a timeless experience, allowing you to treasure every cherished moment in the palm of your hand.

This extraordinary innovation offers an enduring and unforgettable way to express your love, a keepsake that will be cherished for a lifetime, capturing the essence of your special day in a unique and captivating manner.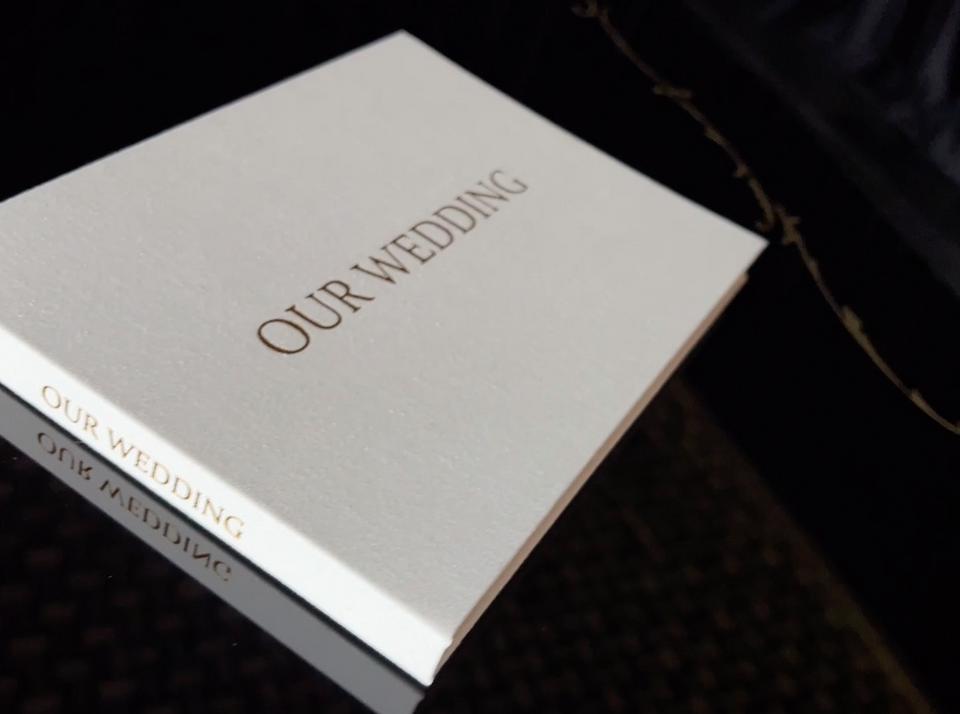 Embark on your journey to relive the magic of your special day with Linen-Covered Video Books. Contact us to unveil the endless possibilities and let us assist you in achieving your vision.

Don't miss the opportunity to make your wedding memories unforgettable—begin your Linen-Covered Video Brochure adventure today!