Your Love Story Is One Of A Kind
Revisit the moments that mean the most to you
ENHANCE YOUR WEDDING MEMORIES WITH THE MAGIC OF WEDDING VIDEO BOOKS
On your wedding day, you weave a tapestry of beautiful moments that are truly priceless. Imagine the magic of reliving your vows, the joy of the reception, and every heartfelt toast, all in vivid detail.

This is where Wedding Video Books come into play, revolutionizing the art of cherishing and sharing your special day.

It's more than preservation; it's a way to keep those treasured memories close to your heart.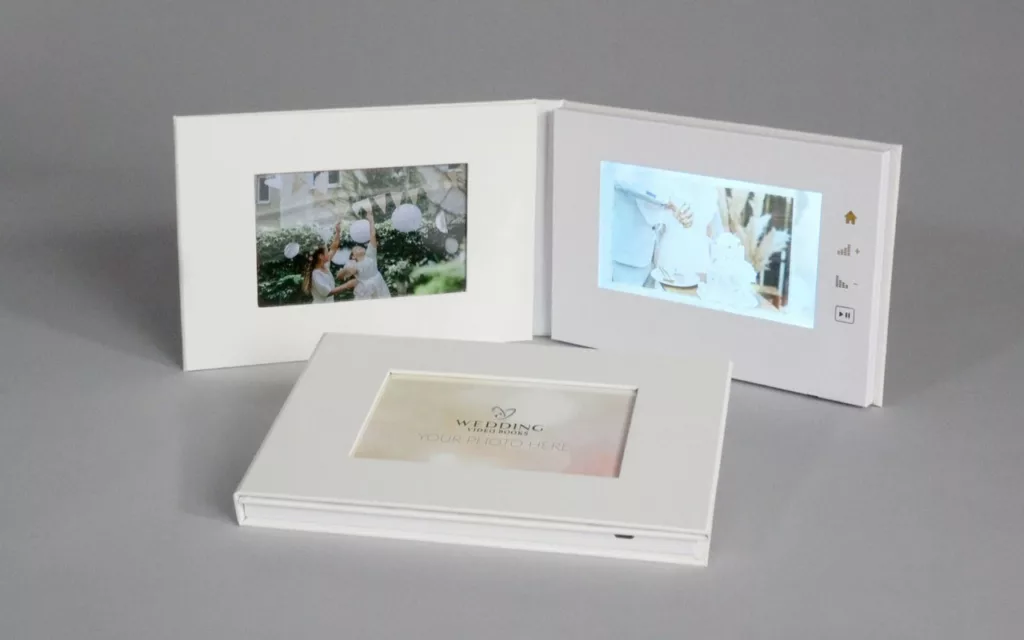 WHAT ARE WEDDING VIDEO BOOKS?
Wedding Video Books redefine the art of preserving cherished memories. They elegantly combine the timeless appeal of a finely crafted book with the cutting-edge technology of an embedded high-definition screen.

Your wedding video is showcased in remarkable detail, capturing the essence of your special day with crystal clarity.

It's a modern interpretation of a cherished keepsake, allowing you to relive your wedding's enchantment whenever you desire.

WHY CHOOSE WEDDING VIDEO BOOKS?
Emotionally Impactful: Video captures the essence of your day like no other medium. It evokes the emotions, the laughter, and the tears, bringing your wedding day back to life.
Shareable: Easily share your cherished memories with loved ones near and far. Whether it's family who couldn't attend or friends who want to relive the magic, Wedding Video Books make sharing effortless.
Unique Keepsake: It's not just a video; it's a keepsake. Your wedding video is presented within an elegant brochure that you can proudly display on your bookshelf or coffee table.
Personalized: Customize the design to match your wedding theme and style. From the cover images to the layout, make it uniquely yours.
Lasting Impression: Your wedding video isn't just watched; it's experienced. The combination of visuals, audio, and touch creates a lasting impression that words alone cannot convey.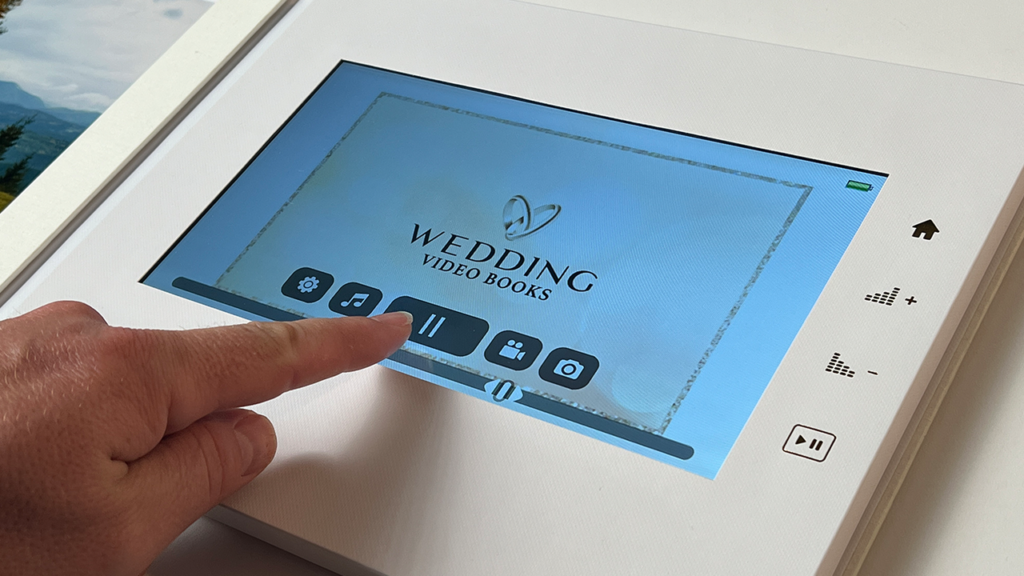 At our core, we appreciate the profound importance of your wedding day, and we're dedicated to preserving every facet of its beauty. Our Wedding Video Books are meticulously crafted with the utmost attention to detail, guaranteeing that your cherished memories are presented in the most stunning and captivating manner possible.
We understand that your wedding day is one of the most cherished moments of your life, and our Wedding Video Books are designed to treat it as such.

Each book unfolds a magical scene, allowing you to relive the romance and joy whenever your heart desires.

YOUR LOVE STORY, YOUR WAY:
Are you prepared to set out on a timeless journey of revisiting the most cherished moments of your wedding day? Wedding Video Books offer an extraordinary and heartfelt way to relive the joy, love, and laughter that define your special day.

Be it your anniversary, a family gathering, or a quiet moment together, your unique love story deserves to be shared and celebrated. These exceptional books transport you back in time to that magical day, letting you immerse yourself in the emotions, vows, and dances, and bringing back the same warm feelings that you experienced.

With Wedding Video Books, your wedding day remains an evergreen story, one that you can revisit and share with generations to come.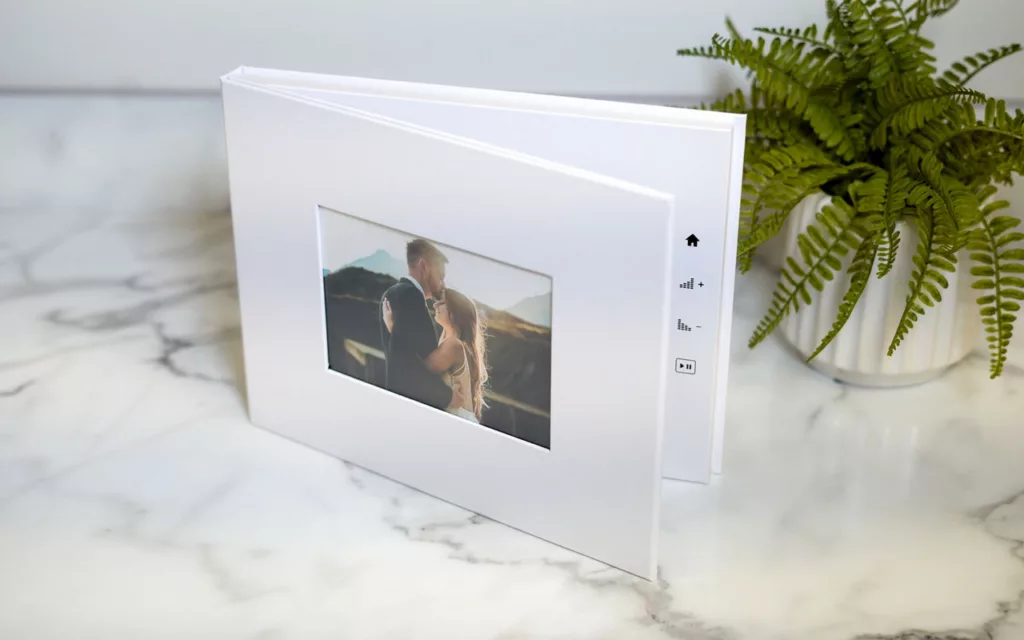 BEGIN YOUR JOURNEY TODAY:
Unleash the enchanting power of storytelling through Wedding Video Books. Get in touch with us to embark on a journey into the boundless possibilities and discover how you can transform your precious wedding memories into an unforgettable, immersive experience.
Every love story is unique and deserves to be celebrated in a way that's truly magical. Wedding Video Books can help you craft a keepsake that transcends time, allowing your love to shine through the pages of your cherished book.

Begin your journey of love and memories today, and let us help you create a masterpiece that will be treasured for years to come.